EMSc-INS Professional Talk Series #11 (19 November 2022)
The "EMSc-INS Professional Talk" is a talk series organized by the Executive Master of Science Programme of The Hang Seng University of Hong Kong, aiming to connect industry practitioners with the students as well as our renowned scholars.
We are very honoured to have Mr. Terry Yeung, Associate Director – Insurance and Claims of the CLP Power Hong Kong Limited, to share his industry experience. The topic of the talk is about Risk Management of a Power Company having Power Plants. Details are as follows: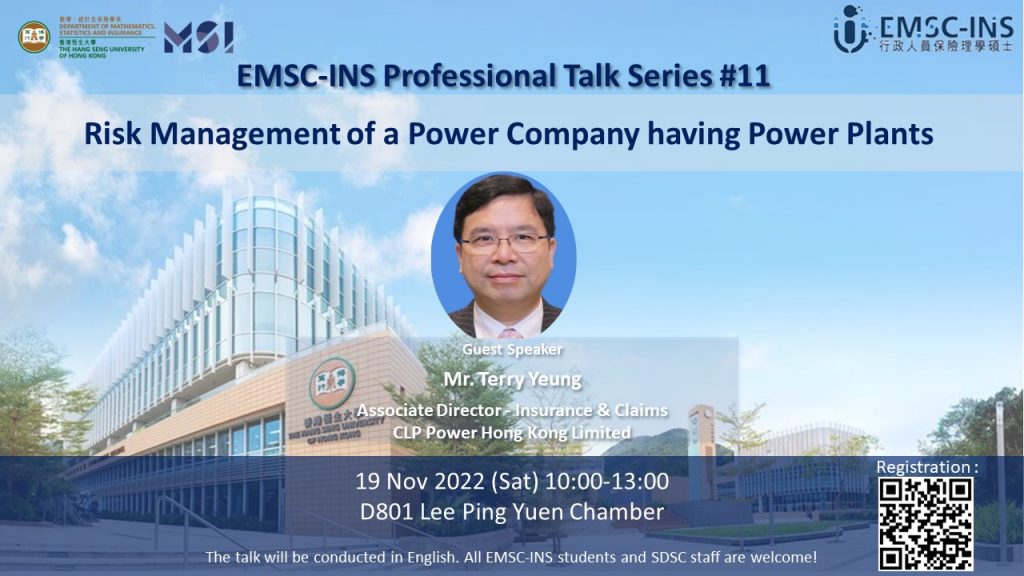 Date: 19 November 2022 (Saturday)
Time: 10:00am – 1:00pm HKT
Venue: D801 Lee Ping Yuen Chamber
Speaker: Mr. Terry Yeung, Associate Director – Insurance & Claims, CLP Power Hong Kong Limited
Language: English
Please click HERE for registration (Free admission, all EMSc-INS students and all staff from the School of Decision Sciences are welcome!)
About the speaker:
Terry is a seasoned professional in corporate insurance management with almost 40 years of industry experience, initially as an insurance underwriter and subsequently as an insurance buyer. He has been working in CLP Power for 22 years, after gaining extensive regional underwriting experience in the insurance industry in Hong Kong and Singapore. Terry was initially employed by CLP as Insurance & Claims Manager with primary responsibility of managing the insurance needs and claims of CLP Power in Hong Kong. Later on, he successfully expanded his portfolio to cover all the insurance needs within CLP Group in Asia Pacific. He is now Associate Director – Insurance & Claims of the Company. Before joining CLP in the end of 2000, he was Manager – Corporate Risks of AXA Global Risks based in Singapore, managing the property and casualty insurance business of its corporate risks in Asia.
He is a Fellow and Chartered Insurance Risk Manager of the Chartered Insurance Institute and a full member of the Association of Insurance & Risk Managers in UK. He is also active in community services for the industry, being a member of the Insurance Management Committee of Hong Kong Management Association for the past 2 decades.
Organiser: Executive Master of Science in Insurance Programme (EMSc-INS)
Should you have any enquiries, please contact Ms. Louise Leung at emsi@hsu.edu.hk.