EMSc-INS Professional Talk Series #13 (18 March 2023)
The "EMSc-INS Professional Talk" is a talk series organized by the Executive Master of Science Programme of The Hang Seng University of Hong Kong, aiming to connect industry practitioners with the students as well as our renowned scholars.
We are very honoured to have Ms. Joyce Lau, Executive Director of Business Services, Tricor Hong Kong, to share her industry experience. The topic of the talk is about IFRS17 Insurance Contracts at a Glance. Details are as follows: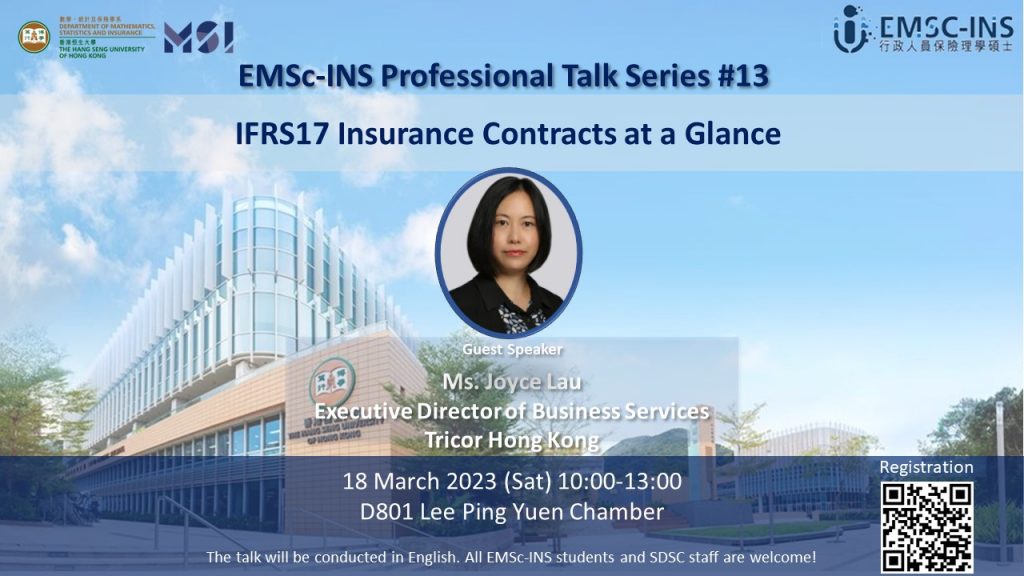 Date: 18 March 2023 (Saturday)
Time: 10:00am – 1:00pm HKT
Venue: D801 Lee Ping Yuen Chamber, 8/F, Lee Quo Wei Academic Building, Yuen Campus, HSUHK
Speaker: Ms. Joyce Lau, Executive Director of Business Services, Tricor Hong Kong
Language: English
Please click HERE for registration (Free admission, all EMSc-INS students and all staff from the School of Decision Sciences are welcome!)
About the speaker:
Joyce is the Executive Director of Business Services for Tricor Hong Kong. She is leading an experienced team of more than 100 certified professionals to provide tailor-made solutions on accounting & financial reporting, payment administration, and human resources services to a wide range of organizations, from small and medium sized enterprises to multinationals and listed companies, across diverse industry sectors. Joyce also leads the services for fund administration and ESG reporting in Hong Kong.
Joyce is a member of Insurance Regulatory Advisory Panel of Hong Kong Institute of Certified Public Accountants. She is also a member of Task Force on IFRS 17 and Task Force on Green Insurance of Hong Kong Federation of Insurers.
Organiser: Executive Master of Science in Insurance Programme (EMSc-INS)
Should you have any enquiries, please contact Ms. Louise Leung at emsi@hsu.edu.hk.