EMSc-INS Professional Talk Series #15 (26 March 2023)
The "EMSc-INS Professional Talk" is a talk series organized by the Executive Master of Science Programme of The Hang Seng University of Hong Kong, aiming to connect industry practitioners with the students as well as our renowned scholars.
We are very honoured to have Ms. Winnie Chong, Senior Vice President of Marsh (Hong Kong) Limited, to share her industry experience. The topic of the talk is about Global Risk Management – Structuring a Global Insurance Programme. Details are as follows: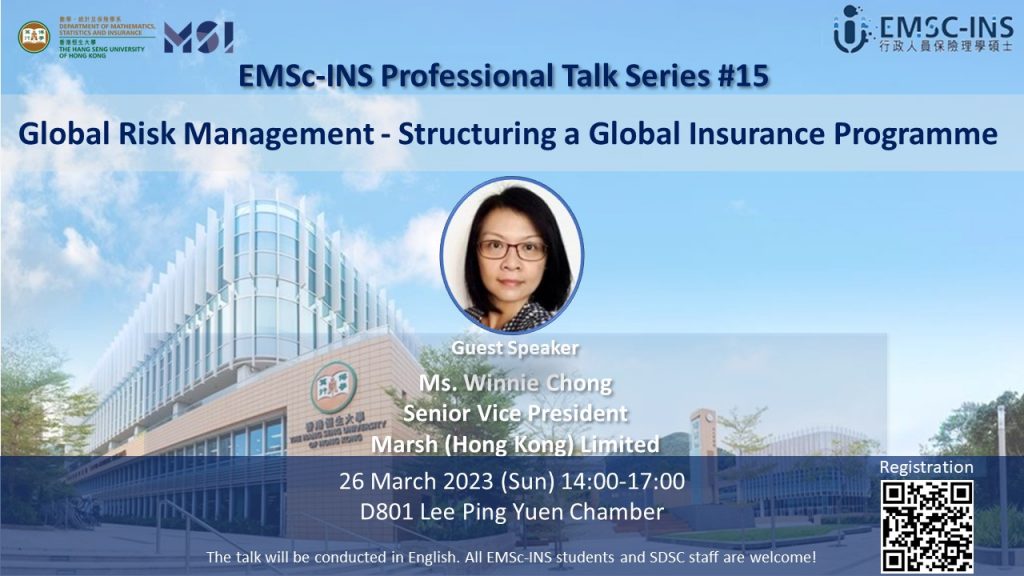 Date: 26 March 2023 (Sunday)
Time: 2:00pm – 5:00pm HKT
Venue: D801 Lee Ping Yuen Chamber, 8/F, Lee Quo Wei Academic Building, Yuen Campus, HSUHK
Speaker: Ms. Winnie Chong, Senior Vice President, Marsh (Hong Kong) Limited
Language: English
Please click HERE for registration (Free admission, all EMSc-INS students and staff from the School of Decision Sciences are welcome!)
About the speaker:
Winnie has over 20 years of experience in the insurance industry specializing in global insurance strategy, risk management advisory and solutions for multinational corporations. She is currently the Senior Vice President of Marsh (Hong Kong) Limited, responsible for the Hong Kong multinational team to provide global and regional insurance programmes to multinational clients in real estate, financial institutions, retail and sharing economy companies. Before joining Marsh, she held various senior positions at Aon Hong Kong Limited and Aon Singapore Pte Limited.
Winnie received her graduate diploma in Marketing Management from Singapore Institute of Management, and bachelor's degree from National University of Singapore. She is an Associate of the Chartered Insurance Institute (ACII) and a Fellow of the Life Management Institute (FLMI).
Organiser: Executive Master of Science in Insurance Programme (EMSc-INS)
Should you have any enquiries, please contact Ms. Louise Leung at emsi@hsu.edu.hk.